Summer is always one of my favorite times a year. Growing up as a kid in Arizona, our Summer meant pool time, catching fish in the lake and long walks on the golf course playing in the sprinklers. We always included the family dog in our adventures. As I raised my family, we had many days outside enjoying the sun. Here are some of my favorite summer time activities to do with dogs and family.
Beach Day
When we lived in San Diego, it was our family tradition every year was to spend the entire day at the beach with a bonfire. Gathering a group of friends, it was nice to enjoy a day of summer, sand and water. Although Koda wasn't a fan of swimming, she still would splash around or play fetch on the shore. Now living in WA, I do miss our leisurely walks on the shore. Taking my dog to the beach was always a treat. If you do live in the San Diego, please check out my  Best Dog Beaches in San Diego guide.
Hiking adventures
Koda and I love exploring nature together. It's our bonding time together. We get some exercise and she gets her sniff walk. Los Penasquitos Canyon Trail near my house in CA was one of our favorites. As it was an easy trail, we often saw wildlife, horses and a lovely waterfall.  I am sooo excited to start hiking around the WA area and take Koda on more adventures. I just need to research  dog friendly hiking trails to avoid steep inclines and rough terrain.
Water Games
Although my husky gets a bit weird when wet, Winnie, my beloved beagle never minded the water. Sometimes it was fun to turn on the sprinklers while we played a game of fetch. With the coolness on her skin she would turn into an instant puppy again. Adding a kiddy pool to retrieve a ball also added some extra excitement.
Gardening with your Pup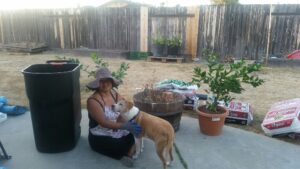 One of Winnie and our favorite past times during the summer was to garden together. From digging holes to watching me plant things, she would always be by my side. One year when I planted watermelon, she wouldn't leave the patch. She would spend time sniffing around because watermellon was her absolute favorite! Other years, she would spend the day in my bed, next to the artichoke. I miss gardening with the beloved beagle. However, I am very much looking forward to planting beds in our beautiful backyard in our new house. Koda needs the experience of summer time in the garden too!
BBQ with your family
When I think of summer, I think of backyard bbqs. On the 4th of July this year, we celebrated as a family with a BBQ buffet and a bit of fireworks. our menu consisted of hotdogs, hamburgers, grilled chicken, veggie tray, fruit, and a 4th of july flag cake. the best part was I got some down time to spend a bit of time sewing. I created a BBQ collar collection Koda had to wear!  Great food and family time are a perfect combination.
Dog Ice Treats
Although summertime is a bit different for me now living in WA as it was in Southern California, we are making the best of it. No beach but it doesn't mean that we can't just as much fun. For a little treat, I made Koda Frozen Summer Time treats and shared with my pack at Canine Crazies in the Den.
With only a few ingredients these are sooo easy to make! Just blend and pop them in the freezer. Versatile like a smoothie. I even ate one!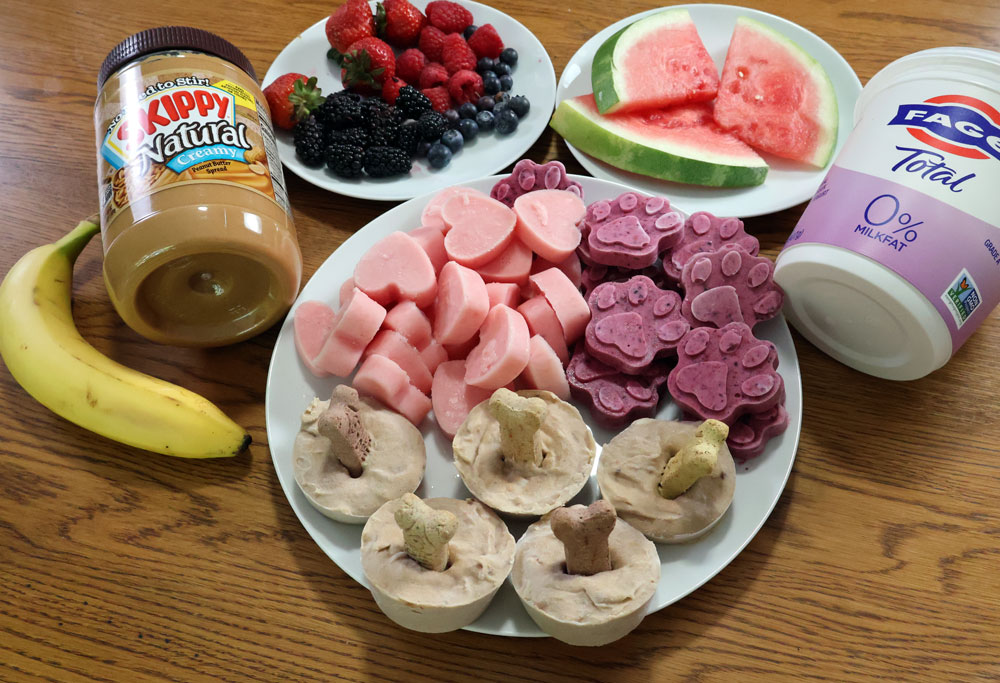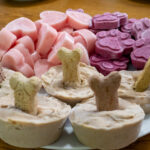 Print Recipe
Frozen Dog Treats
Equipment
silicon molds

high powered blender or food processor
Ingredients
greek yogurt

all natural peanut butter

no xylitol

berries - strawberries, blackberries, blueberries

banana
Instructions
using about 1 cup of yogart as your base, put it into the food processor

add your favorite flavoring such as berries or banana and peanut butter

mix for 1 min or until creamy and smooth

spoon into molds and freeze for 3-4 hours

for pupsickles add a bone for an extra treat!
Wanna chat on Facebook Live?

Come join Canine Crazies and our dog loving community at Canine Crazies in the Den. Recipes like this will be made with more stupid dog fun! Let's bond, connect, share and laugh about the love of our dogs.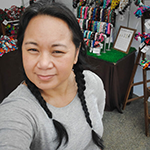 Dog Mom, traveler, foodie and canine crafter. Kimberly is dedicated to enriching the lives of all dogs. She is inspired by her Two Idiot Balls of Fluff, a hyperactive white husky, Koda and her senior beagle, Winnie. Kimberly is passionate about sharing with you all the things she learned raising her two fur babies.