Where it all began….
My inspiration behind the creation of Canine Crazies is because of two furry friends that I am blessed to have the privilege of adopting. Winnie, a sweet old beagle and a crazy husky Koda. They are one of my many reasons why I keep it together. They make me laugh, provide me comfort, keep me company and even make me shake my head. They are my devils and angels. However, I made the choice to bring them into my world, so it is my duty to love my four legged girls unconditionally. Like my human children, my furballs are family.

Winnie the Beagle
2016, my darling little beagle was diagnosed with Lymphoma. Lady Lumpy had growths and her doctor was concerned. They did an initial biopsy and thought it was cancer. They gave us 6 weeks. Since she didn't have much time left, I decided what was best for her was to focus on the quality of life. So I focused on providing her homemade dog food and learned about snuffle toys from a trainer.  Although Winnie girl passed in September 2022, I know by providing that extra care and attention extended her quality-of-life years longer than I ever imagined.  
Koda the Husky
In 2018, I needed a healthy distraction. For my birthday, I decided to adopt a year and 1/2 old husky. Since my mother was a trained musher back in her day, growing up, she shared with her children the magic of a dog sled. I fell in love.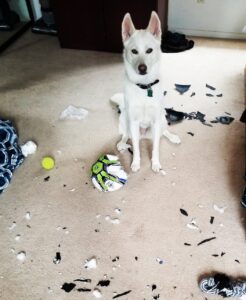 Yet, having a husky as a child and owning one is VERY different. My white demon's destructive nature is just apart of the game. I am thankful I work from home, but even so, she gets into things. Not because she is naughty, but she's curious, bored, and wants to go. It's apart of her spirit. From her zoomies from my office to backyard 5x or her "chatting" with me when I'm ignoring her during the workday. To keep her entertained when my attention seeker wants my time, I give her a plethora of things to play with. We can only go on runs so many times during the day. Sometimes Mama's just tired. As a result, I learned how to make heavy chewer dog toys as my girl can kill a squeaky like nobody's business. She's my most challenging customer to please but also my greatest inspiration to keep crafting for canines. 
Share the love of our pets through dog friendly tips and handmade gifts.

This does not mean just what I make. As a strong supporter of small business, I also encourage, admire, and collaborate  with fellow creators. In my Instagram stories you will often find me cross sharing other makers as well as celebrating their products and services within my canine community at Canine Crazies in the Den. We all share in one vision. Creativity and the love of dogs.
Do the ridiculous. Colorful. Happy. Fun.
Let's be honest. No one NEEDS an fashion dog collar or a colorful ball. We do these thing because it's fun!
The core of Canine Crazies is having fun with your dog. From playing dress up during my Facebook Lives, finding dog memes to make people laugh, cooking for canines or finding new ways to share adventures.
If I can make one person smile at their dog in a adorable bow tie or feel satisfaction watching them toss around a toy, in return I am making humans happy too. 
I value laugher, joy and making memories with your dog. They are not on this earth forever. As owners, we need to embrace every moment of it. You are never too old to get a bit silly with your dog!
I'm in this for the long game.
As a technical project manager in software, Canine Crazies is my very fun side hustle. My love of entrepreneurship for product based businesses runs deep. My first business licenses was when I was 8 selling golf balls.
For the past 20+ years, I have owned multiple businesses in multi channel retail, web marketing, SEO, and e-Commerce web development. As a self taught geek, the Canine Crazies website is completely build and managed by me. 

I am a firm believer people buy a brand not just a product. As a result, my goal is to build Canine Crazies to something I can stand behind.  When it's my time to retire from my day job, I want to pivot my heart to a business I can dedicate the rest of days. 
My long term goal. Mixing tech and dogs. Code is like crafting. We create beautiful things.  All I need is a whiteboard, a technical team and an idea….