Where it all began….
My inspiration behind the creation of Canine Crazies is because of two furry friends that I am blessed to have the privilege of adopting. Winnie, a 15 year old sweet beagle and a crazy 3 year old husky Koda. They are one of my many reasons why I keep it together. They make me laugh, provide me comfort, keep me company and even make me shake my head as I just mumble "damn it dogs". They are my devils and angels. However, I made the choice to bring them into my world, so it is my duty to love my four legged girls unconditionally and provide the best quality of life possible. Like my human children, my furballs are family.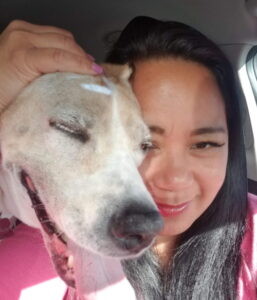 Back in 2016, my darling little beagle was diagnosed with Lymphoma. Lady Lumpy had growths and her doctor was concerned. They did an an initial biopsy and thought it was cancer. They gave us 6 weeks.
Since she didn't have much time left, I decided what was best for her was to focus on the quality of life. Given the fact she is extremely food motivated and would prance down the hall during feeding time, if she gave up on eating, that was her time. So I focused on providing her homemade dog food and dog treats. Why? If I had only a few weeks left to live, I would want enjoy all I can and do what I loved the most. For her, that was food. Why not feed her well.
With advice from her veterinarian and research, I started making her yummies from scratch from chicken and rice to crockpot meals from beef, vegetables, and fish. For treats, special dog bones with her favorite, peanut butter! At times when I was worried and she seemed to struggle eating, I would spoon feed her. 6 weeks passed…. ok. she's still eating. 6 months passed. She's still running down the hall. 1 year passed. We went for a check-up, and they thought it might be in remission. 2 years passed. I still have a dog. During her annual, the vet told me "well, we missed diagnosed. So good news is you don't have a dog with cancer. Bad news is she's put on some weight". She still has lumps but they haven't grown. We've cut back on her homemade treats except for special moments. What matters to me now is she's a happy old girl for however long she has on this Earth.
All my recipes are ones I've perfected for my doggie girls.  I started exploring with other areas of cooking such as pupcakes when my beloved human told me "You're baking too much and I'm already fat!". When I'm not banging at my keyboard in my day job, I obsess over cupcakes, muffins and all sorts of goodies.  Ok fine…it's not going to stop me loving people around me by food, I'll move on to dogs. 
2018: I needed a healthy distraction. For my birthday, I decided to adopt a year and 1/2 old husky. Since my mother was a trained musher in Alaska back in her day, growing up my family would go to Alaska for the Iditorod.  I developed the same love for dog sledding. To me, nothing is more amazing than dog powered sports and being pulled by a team of pups. Although we had huskies and other types of dogs, I have always wanted one of my own to love, train, and mush. I believe to get the most out of dogs, they should do what they are bred to do. For a husky, they are born to run. Good for me to get some fresh air and exercise and good for her.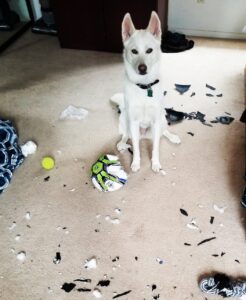 Yet, having a husky as a child and owning one is VERY different. My white demon's destructive nature is just apart of the game. I am thankful I work from home, but even so, she gets into things. Not because she is naughty, but she's curious, bored, and wants to go. It's apart of her spirit. From her zoomies from my office to backyard 5x or her "chatting" with me when I'm ignoring her during the workday. To keep her entertained when my attention seeker wants my time, I give her a plethora of things to play with. We can only go on runs so many times during the day. Sometimes Mama's just tired. As a result, I got the idea of learning how to make heavy chewer dog toys as my girl can kill a squeaky like nobody's business. She's my most challenging customer to please but also my greatest inspiration to keep me creating.
Thank you doggie girls. I love you with all my heart.  ♥