Homemade Crock Pot Dog Food
Crock Pot Dog Food: It started with a sick beagle. 
Back in 2017, sweet beagle girl Winnie was diagnosed with cancer. She's always had a few lumps but her veterinarian was concerned they were growing. Embedded in her skin under her neck, we took a biopsy and she thought it could be Lymphoma.
My heart broke. We discussed different medical treatments like steroids and chemotherapy, given her age, we agreed the best course of treatment was to just let her be a dog. She gave me about 6 weeks before she would most likely take a tumble. Over the course of several weeks, I focused on quality of life. Taking her to new dog parks, the beach, a fancy doggie spa, and letting her rest under my desk while I was working so she wouldn't be alone.
Like most dogs who are sick, my trigger point for Winnie girl was if she was eating. her normal routine is to run down the hall during dinner time. if she seemed uninterested, I knew it would be her time. She did go through a phase where her canned dog food which she normally loved, she couldn't be bothered. In a panic, I decided I would do what I could and cook her her own meals during dinner time. Chicken and Rice. Turkey and vegetables with eggs. As I coached her back into eating through a spoon, my worried lessoned. over time she preferred home meals to canned but it took time in my evening to cook for both the dog and the children.
I've ALWAYS loved my Crock Pot. As a working mom, the fact I can toss in a meal during the day, set it and forget saved me so much time. So I thought, why not Crock Pot dog food? Using the same ingredients I did on the stovetop, I started making her meals once a week. Sometimes I would warm them. sometimes she preferred them cold. I still could give her yummies she enjoyed especially with the lumps under her neck, but save myself time.
I discussed this new way of eating her veterinarian at check up. She advised me there was nothing wrong with making food for your dog. What is critical is to ensure that it has balanced nutrition. Carbohydrates, fats, proteins, minerals, fish oil, vegetables and fruit. Adding homemade dog food to high quality commercial dog food can be a good way to get a dog that may struggle with eating more excited about meal times.
So armed with this information, I developed this recipe that's my "go to" for Crock Pot dog food meals. Occasionally I change it by adding pasta, chicken or turkey. Over time she weened herself off spoon feeding, and regained her appetite. Now with the added homemade toppings, she eats like a horse. She back to running down the hall when it's feeding time. Her nose just takes over with the smell of the cooked food she completely forgets about her lumps. The best news of it all – she doesn't have cancer. After 2 years of nurturing her, the vet agreed that her lymphoma is either in remission or it was a misdiagnoses. The lumps are still there in her throat, but doesn't seem to impact her eating or breathing.
Even with a cancer free dog, making Crock Pot dog food is still worth it to me every week. With a scoop of dry food and some home cooked yummies to enjoy, I can be reassured the girls are fed with love. ♥
Wanna chat on Facebook Live?

Come join Canine Crazies and our dog loving community at Canine Crazies in the Den. Recipes like this will be made with more stupid dog fun! Let's bond, connect, share and laugh about the love of our dogs.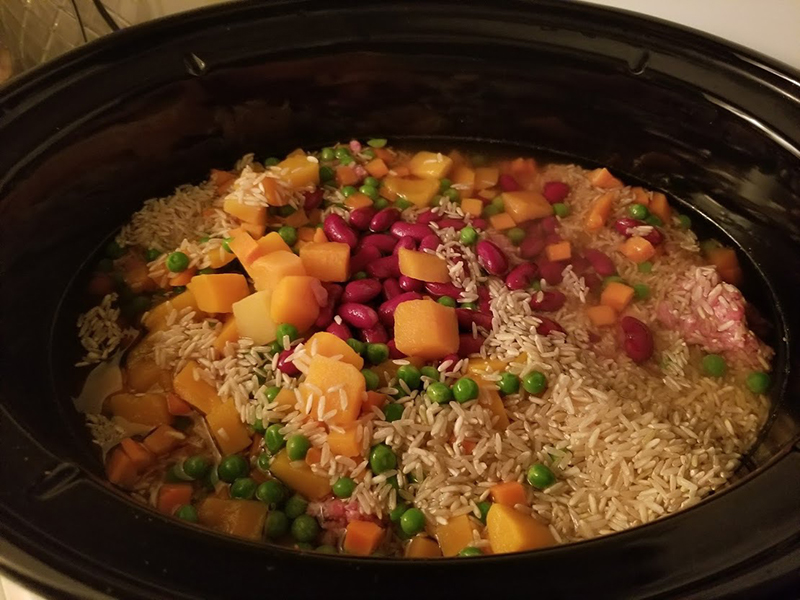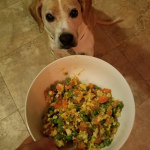 Print Recipe
Homemade Crock Pot Dog Food
Made with love, crock pot dog food can be used as a meal or an additive to commercial dog food. Please ensure there are no bones to prevent choking. Throw it all together in the morning and set it and forget it. Ideal for dogs with sensitive stomachs or picky eaters as you know the ingredients and can eliminate trigger foods.
Ingredients
1.5

cups

water

1

cup

brown rice

3

lbs

protein mix

fish, ground beef, pork, chicken, turkey

1

each

apple

2

each

eggs

1

large

sweet potato or butternut squash

1

cup

frozen vegetable mix

carrots, peas, green beans

1

can

kidney beans

drained

1

each

oil or crock pot liner
Instructions
Line or grease the crock pot to prevent sticking

Cut the apple into chunks. Make sure you remove the seeds as they can be toxic for dogs

Remove the skin and cut the sweet potato or butternut squash and cut into small chunks

In a bowl combine the protein mixture. This can be a variation of different meats such as ground beef, ground turkey, ham chunks, fish fillets, turkey thighs, breasts and livers. Ensure there are no bones in the mixture.

Add the apples, eggs, sweet potatoes, butternut squash, rice, water, frozen vegetables and kidney beans into the crock pot

Cook on low for 6-7 hours or high for 3-4.

Completely cool before serving. Store in a sealed container in the fridge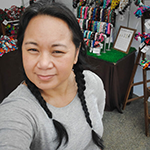 Dog Mom, traveler, foodie and canine crafter. Kimberly is dedicated to enriching the lives of all dogs. She is inspired by her Two Idiot Balls of Fluff, a hyperactive white husky, Koda and her senior beagle, Winnie. Kimberly is passionate about sharing with you all the things she learned raising her two fur babies.