Best Dog Beaches in San Diego
Although I live by the best dog beaches in San Diego, sometimes it's hard to get away. The statement I most often receive is "Ohhh, San Diego is beautiful! You most go to the beach all the time." Visiting is one thing, but when you live here, life can get in the way. From work, errands, kids, dogs, and life, often times I'm distracted by the hustle and bustle. The beach is the last thing on my mind. Yet, when I do need downtime, one of my most favorite things to do is taking a stroll along the ocean, feeling the sand and breeze and knowing that both of us are getting a break from our typical day. It's nice knowing that when you need a mini escape, it's just a 20 min drive.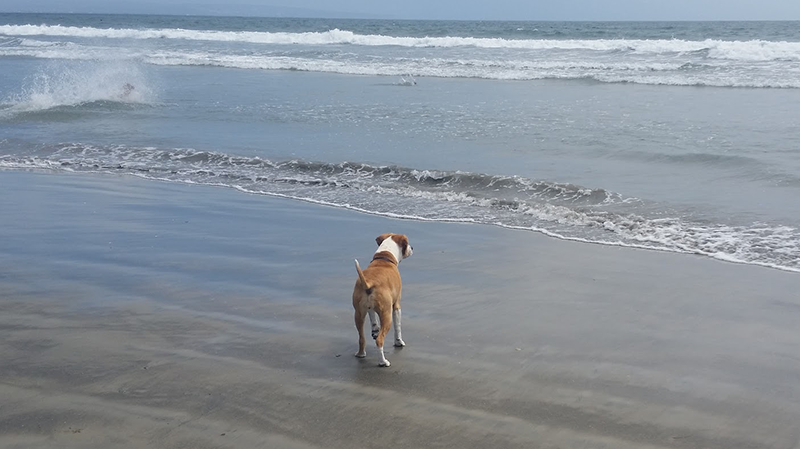 Best Dog Beaches in San Diego: Off-leash
Dog Beach, Ocean Beach One of the most popular and best dog beaches in San Diego to spend the day with your four legged friends The Original San Diego Dog Beach is located at the north end of Ocean Beach. Dogs can roam off leash 24 hours a day. From our experience, this beach tends to get a bit crowded with a younger and hip crowd. 
Coronado North Beach Located across from Sunset park boarding Coronado North Island US Naval station, this dog beach is an excellent day adventure. When we arrived, we had no problems parking. Follow the pathway (on leash) to a long stretch of sand towards the beach. After the day of the beach we walked around Coronado island and grabbed lunch at a nearby café. What I appreciate about Coronado Island is the dog friendly community with restaurants with outdoor accommodations for your pet.
Del Mar Dog Friendly Beaches Although seasonal, Del Mar is by far one of my favorite dog beaches to visit with my doggie girls. Although off leash times are seasonal, for me it's worth the wait. What is nice is the sand barges during the season when tide is out, where dogs can run and jump in the pools of water. The current isn't strong for even my beagle to play.
Word of caution: Unlike a dog park with a fence, if you do take your pup to an off leash dog beach, make sure they have strong recall. I have seen a few times dogs go a bit too far and need rescuing as they are caught up in the waves. I don't trust husky girl to go off leash given her high prey drive. One thing caught out of her eye, she will take off like a rocket. Seagulls won't stand a chance. Know your dog before bringing them to a dog beach. For our off leash adventures, I limit them to only my little old beagle as she's just happy to be there and doesn't roam very far.
Best Dog Beaches in San Diego: On-Leash
For husky girl who can't travel off leash? She isn't left out in the fun.
La Jolla Shores – Dogs are allowed from the hours before 9 AM and after 4 PM on the beach, boardwalk, and nearby parks. Sit in the sand or roll in the grass, its our favorite place to watch the sunset.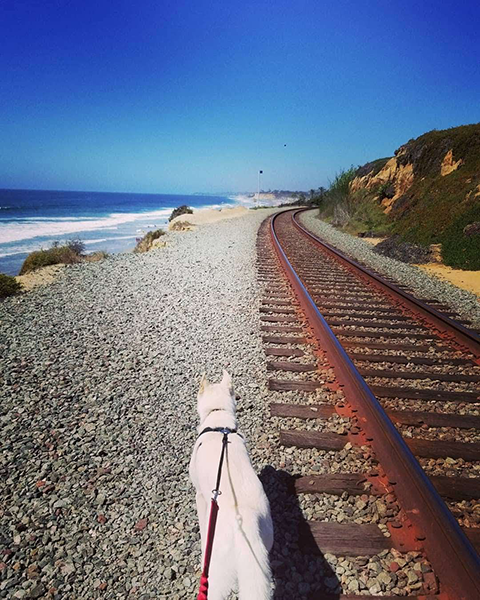 Del Mar Beach Power House Park – During times of off leash hours (post labor day through mid June), this is one of my favorite long adventures with husky girl. A walk on the tracks overlooking the views is a nice way to spend time burning her energy.
Cardiff State Beach – Just south of the watchtower at San Elljo State Beach, we can enjoy sitting in the sand, watching the ocean, or enjoying the evening sunset. Every time I have taken my girls here, there are not a lot of humans so we can enjoy bonding time with minimal distractions.
What  do I think is the best dog beach in San DIego? It's so hard to choose. Although I tend to go north near Del Mar or La Jolla as it's  quiet for families, it's also fun to be in the younger crowds further south. Like all outdoor time with your dog, please pick up after your pooch and leave nothing but paw prints.
Wanna chat Live about dogs? Come join Canine Crazies and my pack of dog friendly friends on Facebook at Canine Crazies in the Den. Let's bond, connect, laugh and share the love of our four legged friends.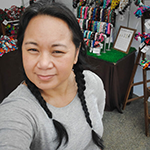 Dog Mom, traveler, foodie and canine crafter. Kimberly is dedicated to enriching the lives of all dogs. She is inspired by her Two Idiot Balls of Fluff, a hyperactive white husky, Koda and her senior beagle, Winnie. Kimberly is passionate about sharing with you all the things she learned raising her two fur babies.