Pupcakes with Peanut Butter Frosting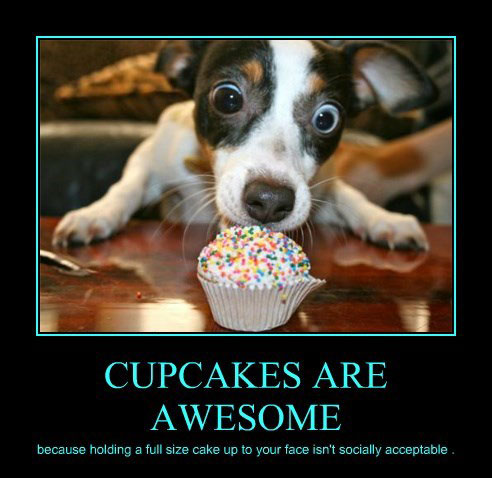 I LOVE cupcakes. Ok, I'll be honest…. I love all things shaped like a cupcake….especially pupcakes with peanut butter frosting!  To me nothing is more fun than a mini cake you can indulge in and not really feel guilty about. Sweet or savory. Decorated with a whirl of frosting or leave them simple. They are versatile, portable, make people and dogs happy. They are down right yummy.
In my spare time I'm always exploring with different ways to make and share my love of cupcakes with friends or family. Sometimes I nail it. Sometimes I don't. Whether its a birthday cupcake celebrations, banana bread muffins so we don't waste food, or breakfast egg pop and go muffins for my darling wrestler teenage son who limits his carbs during seasons, to me…. cupcakes are life.
History of a Cupcake
In my curiosity, I decided to research the history of a cupcake. While cakes have been made for centuries, the first cupcake immerged around the 19th century in America. The first official name of "cupcake" was in 1828, in reference to a recipe in Eliza Leslie's cookbook. Although there were small cakes baked before this time in Europe called queen cakes, most historians reference Eliza the "Mother of Cupcakes" . During this time cupcakes were baked in individual pottery cups before muffin tins. It was not until 1950s the first commercial paper baking cupcake became very popular.
Inspiration for Pupcakes with Peanut Butter Frosting for Dogs
My other problem. I love by food. When I'm not working at my day job or making doggie toys, I truly enjoy finding new ways to cook and bake. Given the times we live in with stay at home orders and COVID, I tend to have a habit of randomly baking cupcakes and leaving them in my living room for my darlings to grab and go. With older children who both take online classes, we are all busy doing our thing. I didn't have time to make anyone breakfast although I wanted to.  Cupcakes to me are an easy solution for quick breakfast and snacks in between our Zoom calls and work.
My baking obsession does become a bit of a problem. Staying at home  as much as possible with a Mama who loves to bake + the only exercise you get is walking to your kitchen, isn't the best of combinations. When my favorite human told me to "slow it down with the baking"…. well, I just decided bake for my other loves, my two furry friends. I still can indulge in my love of baking while making my love ones around me happy. 
So how does one make a doggie friendly pupcake? Simple! Kill the sugar. This basic pupcake with peanut butter frosting can also be adapted to other dog friendly ingredient like bananas or apples. For the frosting, a base of yogurt, cream cheese or even potatoes mixed with peanut butter with for the lactose sensitive dogs can also be used. When creating  pupcakes with peanut butter frosting, make sure that you carefully read the ingredients. Xylitol, a sugar substitute found in lower or sugar-free products can be toxic for dogs.  Top it with a sweet potato bone, crushed peanuts or even bacon bits! 
The last time I baked these pupcakes with peanut butter frosting for the girls, my son made me laugh. Curious how they were made, I explained to him the process of using all natural ingredients for dogs. His response, "hmm.. that actually doesn't sound bad. They look good. Just don't eat the bone" 🙂 
Wanna chat on Facebook Live?

Come join Canine Crazies and our dog loving community at Canine Crazies in the Den. Recipes like this will be made with more stupid dog fun! Let's bond, connect, share and laugh about the love of our dogs.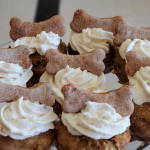 Print Recipe
Pupcakes with Peanut Butter Frosting
Celebrate your doggie's birthday or a adoption anniversary with these fun healthy pupcakes.
Word of caution: Please read the label before adding store bought peanut butter. Xylitol, a sugar substitute found in lower or sugar-free products, is harmful to dogs. Natural or homemade peanut butter is always best.
Ingredients
For the Pupcake
1/4

cup

peanut butter

without Xylitol

1/4

cup

unsweetened applesauce

1/4

cup

yogurt

1/2

cup

finely shredded carrots

1

each

egg

1/2

tsp

baking soda

3/4

cup

whole wheat flour
For Frosting
1/2

cup

peanut butter

without Xylitol

1

cup

cream cheese

toppings such as peanuts or bones
Instructions
Preheat the oven to 350F. You can line the cupcake tin with liners, but I prefer using silicon cupcake trays so the dogs wont eat the paper

In a bowl, mix the peanut butter, applesauce and yogurt until well combined

Add one egg followed by shredded carrots. Mix well

Add the whole wheat flour and baking soda. Mix well

Using a spoon or a scoop, fill 6-7 cups equally.

Bake at 350 for 25-30 minutes until a toothpick inserted in the center comes clean

While the pup cakes cool, prepare the frosting by mixing the cream cheese and peanut butter.

Pipe or spread the frosting on fully cooled pup cakes

Decorate with their favorite treat and watch their happy tails!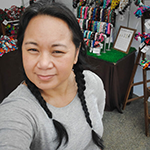 Dog Mom, traveler, foodie and canine crafter. Kimberly is dedicated to enriching the lives of all dogs. She is inspired by her Two Idiot Balls of Fluff, a hyperactive white husky, Koda and her senior beagle, Winnie. Kimberly is passionate about sharing with you all the things she learned raising her two fur babies.