Ohhh doughnuts! An American tradition that we all love and adore. To celebrate National Doughnut Day, I made peanut butter and bacon treats just for my Koda girl. Also a special toy just for this occasion.
History of National Doughnut Day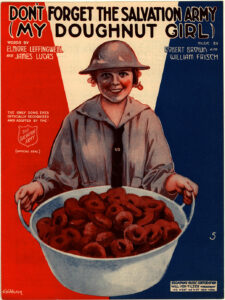 In researching about the history of National Doughnut day, I did not realize they date back to World War 1.  Did you know The Salvation Army sent woman in to France with these sweet treats and coffee to life the spirits of our brave men in combat? " Doughnut girls" or "Lassies" as they were affectionately called, was a memory of the American spirit to provide comfort and a bit of home.The Salvation army honored these woman in 1938 with the first National Doughnut day
Fun facts about Doughnuts
1. Doughnut or Donut? there really is no wrong way to spell it. Both are used frequently but gained more popularity in the 20th centry.
2. The modern doughnut was created in the mid 19th centry by a dutch American man named Hansen Gregory. Why did he punch a hole in it? To make it easier to cook
3. Guinness World Record: The largest doughnut ever made weighed approximately 3,739 pounds (1,697 kilograms) and had a diameter of 16 feet (4.9 meters). It was created in Utica, New York, in 1993.
Dogs and Doughnuts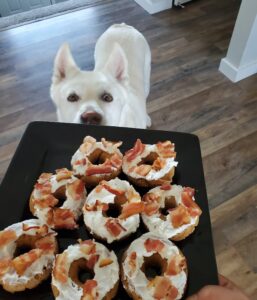 Technically doughnuts aren't very healthy treats for dogs. Not human ones. With the high sugar content, healthy fat and especially toxic chocolate sprinkles, we need to be mindful what we give our pups. does it mean that dogs can't EVER have doughnuts? Nope! The best part of making handmade treats is knowing what your dog is eating. With dog friendly ingredients you can make the perfect doughnut shaped treat for your pup to love and enjoy.
Today in Canine Crazies in the den, I baked a peanut butter dog doughnut recipe topped with bacon! Although bacon as well is not that healthy for dogs due to the high fat and salt content, rinse off the extra salt. I use it very sparingly and only on rare occasions. An every day thing? Nope. for National Doughnut day… why not.
Ingredients and Tools to make Dog Doughnuts
The first thing you need to make adorable dog doughnuts is a silicone molds. I tend to prefer silicone to metal as it's easy to pop out when you are done. Found this inexpensive doughnut mold set off Amazon (affiliate link) that I could use not just for this special occasion but also when I have a craving! It was perfect. I place them on a baking sheet and a wire rack when done. They are just so easy to use.
As for ingredients, you will need low salt all natural peanut butter (no xylitol as its toxic to dogs), and egg, honey, whole wheat flour, baking powder, bacon, and greek yogart. Thankfully these are all staples we have in our kitchen.
Frosting for Dogs
There are many ways you can frost doughnuts for dogs. Some use coconut oil and peanut butter. Since we will be storing these in the fridge due to the bacon, i didn't mind using more of a fluffy frosting. Cream cheese or cottage cheese can work just as well. if your dogs are lactose intolerant, mashed potatoes without the milk and butter is a perfect alternative.
New Dog Toy Alert: Dog Squeaky Bones!
The best part? Koda got a new doggie doughnut bone toy!  To celebrate National Doughnut day I had to sew her a new doggie toy. She was not happy with me because she had to wait until today for me to give it to her. haha.
I've had this fabric for awhile so I thought I would put to good use. With a new pattern, I am testing a squeaky bone toy because there is so much fun fabric in the world. Since I haven't used the doughnut fabric to make a handmade collar collection, why not give her another treat that didn't make my husky fat. Within 10 min, she shredded it…. but it was so much fun for her while it lasted. Currently these handmade dog toys are not in the shop but will be added in the next few weeks! My hope is eventually to purchase a embroidery machine so I can personalize these bones with your doggos name. I see birthday bones in our future!
Wanna chat on Facebook Live?

Come join Canine Crazies and our dog loving community at Canine Crazies in the Den. Recipes like this will be made with more stupid dog fun! Let's bond, connect, share and laugh about the love of our dogs.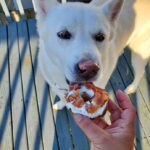 Print Recipe
Peanut Butter Bacon Dog Doughnuts
Equipment
doughnut silicone mold

baking sheet

wire rack

Bowl

spatula
Ingredients
1/2

cups

milk

1/2

cups

peanut butter

no xylitol

1

each

egg

2

tbsp

honey

1

tbsp

baking powder

4

each

bacon

cooked and cut into small pieces

1/2

cup

greek yoguart
Instructions
Preheat the oven to 350 degrees. Spray the doughnut pan with non stick cooking spray

In a large bowl mix the milk, peanut butter, egg and honey together

In seperate bowl mix the flour and baking powder.

Mix the wet and dry ingredients until a sticky dough like texture

Using a rubber spatula and your hands fill the doughnut pans about 2/3 full. Spread evenly

To frost: spread greek yougart and top with bacon bits. YUM!
This post contains external links to recommended products. Please visit to learn more about our external link policy.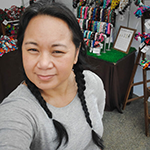 Dog Mom, traveler, foodie and canine crafter. Kimberly is dedicated to enriching the lives of all dogs. She is inspired by her Two Idiot Balls of Fluff, a hyperactive white husky, Koda and her senior beagle, Winnie. Kimberly is passionate about sharing with you all the things she learned raising her two fur babies.