Gluten Free Sweet Potato Bones

Gluten Free Sweet Potato Bones: Inspired by a sweet puppy.

When my dearest girlfriend adopted a puppy, I wanted to do something to welcome her new bundle of joy. I love nothing more than doing little things for the ones I love. To me, baking means love. It comes from the heart. Why not do something to make a new pup feel welcomed and happy? In return, we spread more joy to our human friends.
When I was thinking about what to make for a little pup, the one concern I had was allergy reactions. Since you don't always know. if new dog has a sensitive stomach, I thought it was best to play it safe. Sweet potato are a ideal natural ingredient to support a healthy digestive system. As for grains, I needed to do my homework. After some research, according to the Whole Dog Journal, Dr John Symes, DMV has advocated a diet regime for dogs that eliminates gluten free grains such as wheat, barley, and rye. So coconut flour and almond flour were a good alternative for gluten free sweet potato bones.
Is gluten free ok for my dogs?
Gluten-free differs from grain free in commercial dog food. Grains range from wheat, corn, rice, oats, barley, rye and soy. Gluten-free foods do not have gluten-containing grains such as wheat, barley, and rye, but they may still contain other grains. While there are some concerns regarding the safety of grain-free foods and heart disease, the FDA has opened an investigation to explore and further research. For this one time treat, I figured it was best to play it safe. However, if you plan on switching your dog to a grain free diet, it's best to consult with a veterinarian.
So armed with my doggie baking supplies, I baked these delicious tasty treats. I must confessed, I even tried one! Since they were made with all natural ingredients, I was curious what they would be like. They tasted like very bland sweet potatoes but with no spices or sugars, it was to be expected. They were simple to make only using 3 ingredients. Sweet potatoes, coconut flour and almond flour. I did learn that unlike regular whole wheat bones, these gluten free sweet potato bones are much softer. Therefore, be very gentile when removing them from the cookie cutter. I also decided to give it a personal touch, I used a cookie stamper to "Welcome Home Kai!"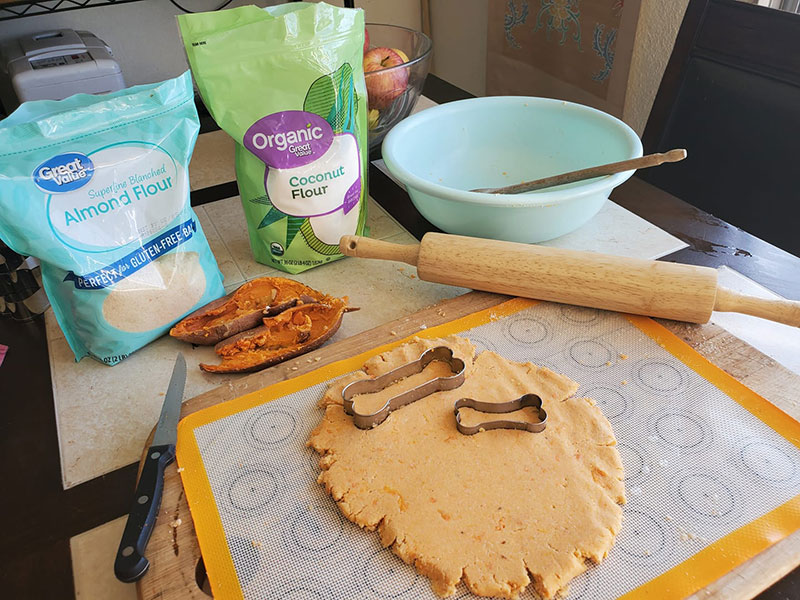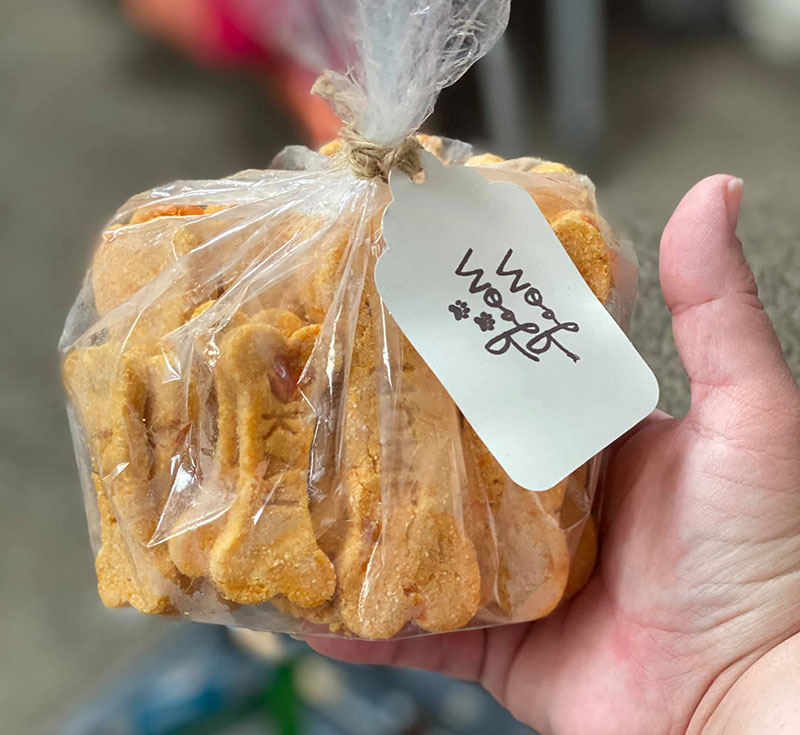 It made my day just knowing that both my girlfriend and her new puppy felt loved. In these crazy times, the humans around us and our four legged friends need to be treated special. The one thing that COVID-19 has reminded me is we only have so much time on this Earth. So lead from the heart and time time for others. The little things really do matter. ♥
Wanna chat on Facebook Live?

Come join Canine Crazies and our dog loving community at Canine Crazies in the Den. Recipes like this will be made with more stupid dog fun! Let's bond, connect, share and laugh about the love of our dogs.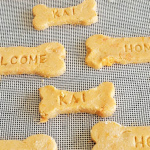 Print Recipe
Gluten Free Sweet Potato Bones
Using only 3 ingredients, these gluten free sweet potato bones are ideal for dogs with sensitive stomachs.
Ingredients
1 1/2

cups

almond meal

1/2

cups

coconut flour

1

cup

sweet potato, cooked and mashed

about 1 large sweet potato

1/4–1/2 

cups

water

Bone-shaped cookie cutters and cookie stamps

if desired
Instructions
Pre-heat oven to 350 degrees F

In a large bowl combine almond meal and coconut flour

Stab with a fork and microwave the sweet potatoes about 5 min. Scrap the insides and discard the outer skin.

Add sweet potatoes and water to the flour mixture. Combine well. 

Roll the dough and use a cookie cutter to cut out the shapes. You can use a cookie stamp to customize the bones. if the dough sticks, add additional coconut  flour. 

Place on a parchment paper or silicon mat. 

Baked for 20 minutes or until lightly browned

Remove from oven and let cool completely on tray for at least 1 hour.  They will be soft but dry over time. 

Store in the refrigerator for 1-2 weeks.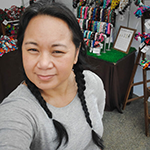 Dog Mom, traveler, foodie and canine crafter. Kimberly is dedicated to enriching the lives of all dogs. She is inspired by her Two Idiot Balls of Fluff, a hyperactive white husky, Koda and her senior beagle, Winnie. Kimberly is passionate about sharing with you all the things she learned raising her two fur babies.