Celebrating Christmas with Your Four-Legged Friends
With only a few days remanding until my children comes together to celebrate this lovely time of year, I am reflecting tonight on my family during the holidays. It's different now that they are older. One will be home while the other is celebrating with friends. However, family is family – no matter where we go or what we do.
Apart of my family includes my four legged friends. Over the years I've found little ways to incorporate my girls into the holiday festivities. I always wanted them to feel loved and special. Christmas day can be an exciting time for dogs. New smells of Christmas dinner or presents we unwrap. Here are my top tips on how to make this holiday season special for the creatures we love.
Take a walk in the snow
Now that we are living in Washington State, we have seasons! For our first Christmas in the Northern part of the country, Koda was soooo excited to see the snow. As a doggie born in Arizona but grew up in Southern California, this was very new for her. I'm so very grateful I can show her what being a snow dog is all about! Walking with your dog is a special time. Even in snow, its a great way to keep your pup active during the winter season. The fresh air and exercise will do wonders for your pup's health and well being.
Make Homemade Dog Treats
One of the best ways to celebrate Christmas with your dog is to make homemade treats. Not only are homemade treats healthier for your pup, but they're also a fun project for the whole family. Since my children were younger, we would bake together and just spend quality time on Christmas eve for Santa to have cookies the next day. As they got older, I indulged on a bottle of wine and still continued with making treats for all my human and fur babies.
The girls favorite are Sweet Potato Dog bones. They are simple and easy to make. After several batches of cookies and lots of wine, easy is what I need!
Put up a doggie Christmas tree
As an ongoing tradition, I set up a separate tree just for my dogs! The moment I bring it out of the box… they know. This tree is for them! Every year I purchase something special for their doggie tree. When I saw these beautiful handmade ornaments hand painted by Soulful Animal Portraits by Crystal, I had to have one! Not just for each of my girls but also Bruno the Dog Prop!
How do decorate a pet safe Christmas tree?
We opt for fake trees because Koda is known to pull of branches on real trees as it looks like sticks. Fir tree oils can be irritating to the mouth and cause vomiting or drooling. Needles are always at risk for ingestion.
No tinsel or fake snow as it can cause intestinal obstruction. Use paper garland instead.
Any breakable ornaments decorate high and don't use metal hooks. Stuffed animals at the bottom are the safest decorations or leave the tree bear.
Hide electrical cords and use a pre-lit tree if your dog likes to chew on cords.
If you add treats to a tree such as a candy cane dog bone, put your tree on a table and up high. Any dog will get curious to grab the treats and could potentially knock over the tree.
Knowing your dog is the key to a successful doggie tree. It may take some training to ensure their safety. Although my girls get excited, they have never knocked over our tree and created any damage to themselves or our holiday times.
Hang a stocking for your pup
There's no better way to show your pup you care this Christmas than by hanging a special stocking for them. You can make one yourself, buy a pre-made one from a pet store or online, or get creative and make a larger stocking that you can both share! You can fill the stocking with lots of different goodies and treats that your pup loves.
This year Koda gets a few new toys, balls and a few squeakers. She has been soooo curious! It didn't help she heard a squeaker inside her stocking. haha. I find her smelling the stockings wondering what is inside. Sorry pup, you have to wait until Christmas morning.
Wrapping paper – the perfect gift for a dog who shreds
Since Koda is a shredder, she loves everything paper! Books and cardboard… so why not wrapping paper! Allowing her to shred on an occasion taps into her inner wolf spirit. According to PetMD, More often, though, dogs shred tissues and towels simply because it's fun, says Erin Jones, a certified dog behaviorist and owner of Merit Professional Dog Training in Halifax, Nova Scotia. "The number one reason is probably just because they enjoy the sensation of ripping stuff up," she says. Its Christmas time! Wrapping paper is everywhere anyways. For me – her wrapping paper shredding time is worth the mess.
Christmas Pictures: The gift that keeps on giving
The one thing I am extremely grateful for is having holiday pictures of my beagle girl. As she crossed over the rainbow bridge the end of September, I can look back on all the fun times we had. The silly pictures I took of her and how much she is loved. So take time to take a few snaps of your doggie in Santa hat, reindeer ears or visiting Santa. Dogs live a short time on this earth, but it's memories for you that will last a lifetime.
However you spend this season, we wish you a very happy and joyous holidays. With your best friend by your side, make it your best Christmas ever!
Wanna chat Live about dogs?

Come join Canine Crazies and my pack of dog friendly friends at Facebook at Canine Crazies in the Den. Let's bond, connect, laugh and share the love of our four legged friends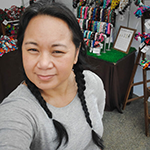 Dog Mom, traveler, foodie and canine crafter. Kimberly is dedicated to enriching the lives of all dogs. She is inspired by her Two Idiot Balls of Fluff, a hyperactive white husky, Koda and her senior beagle, Winnie. Kimberly is passionate about sharing with you all the things she learned raising her two fur babies.