7 Ways to Celebrate Valentine's Day with your Dog
Valentine's Day with your dog? Why not? Valentine's Day, also called Saint Valentine's Day or Feast of the Saint Valentines is a day to celebrate love.  It's a day to show your significant other how much you care. Flowers, dinner, presents…the works! Your dogs also deserve a special Valentine's day treat.
My two girls are my best friends. They are always happy to greet me, keep me company at night, and check on me periodically throughout my busy day. Although they can both drive me crazy at times – from the hot mess husky's destructive behavior or the beagle girl thinking EVERYTHING is food (including rocks), I would not change them for the world.  The reason why Canine Crazies started was for the love of dogs. How do you make sure they feel the love this Valentine's Day? I've got the pawfect list of ideas to make this Valentine's Day special for both you and your dog.
How to make your Valentine's Day with your dog special
Make heart shaped bones
When I have time, I love cooking for my girls. As tradition, I always make them little treats on Christmas eve along side with cookies for the hoomans. Why not make heart shaped bones or a special meal just to make them feel extra special?  At Canine Cookery, I share with you some of my favorite doggie recipes. My Sweet Potato Dog Bones require only 3 ingredients. Today, I am making Strawberry Valentine's Day frozen treats to give to my girls tomorrow. So please check back on the blog because I will be posting it soon.
Visit the dog park
Although husky girl isn't allowed at dog parks due to her high energy and rough play, Winnie girl enjoys a stroll at the dog park. When I want to treat her to an adventure that is different than her sister, we grab a cup of coffee and a puppuccino and head to the park. Although she's old and doesn't play much, she gets a special moment to meet and greet other furry friends. I believe spending quality time not just together as a pack but also independently only enhances the bond with your pups.
Plan the day for a long walk or hike
For my high energy husky, our special time together is longer adventures either by walking on the beach or hikes. She's always kept on leash because her high prey drive nature and her speed. I could lose her down path by just one squirrel. Like most huskies, when she has her mind set on something, her recall isn't the best. When we are in more remote areas, I bring a 20 foot leash so she can explore, have zommies and play. Unlike the beagle, she can go for miles and miles so her time is when we plan the day together.
A special valentines day photo
We had a lot of fun this year with Valentines Day! Wearing my new Valentine's day collar, leash and accessory collection, Koda girl and I did a photo shoot with kisses galore! Although I didn't think about it, getting lipstick off a white husky has been quite an adventure. She didn't like the face wash but it defiantly created lots of laughs.  Although you may not want to put lipstick on your dog, taking special valentines day photos with your dog is a good memory you can keep for a lifetime.
Get a new Valentine's day toy
What dog doesn't love a new  toy? As a maker of dog toys, I am constantly rotating husky girl's old ones with new. She's my greatest but by far my most challenging customer to keep happy. My lucky pup has the job of testing any new fleece dog toy or find different ways to play with the snuffle balls. Sometimes I put different treats inside her snuffle toys such as cheese bites (her favorite) just to make it more interesting. Through rotation of toys, it's defiantly helped reduce the destructive behavior.
Have a spa day made with love! 
Although my girls hate bath time and the only way to wash these two wiggle worms is in the shower, having a special dog spa can be a fun bonding time together. My favorite way to indulge in pampering myself is through handmade  soap and body scrubs.
Did you know you can also find handmade soap for your dogs? My favorite products for these types of special occasions are from The Creative Camper Soaps. Not only does she make soap, shampoo bars, body butters, and sugar scrub that smell amazing, she has her own unique line just for dogs! As a Pup Partner,  I know she puts a lot of love into her all of her products. " Purchasing handmade is from  the heart, not only for yourself but also your pets.
Make a donation to a shelter or rescue
Not all dogs are blessed to have owners who love and adore them. According to the ASPCA, "approximately 6.3 million companion animals enter U.S. animal shelters nationwide every year. Of those, approximately 3.1 million are dogs…" Dogs are in need every day. Through the dedication, love and endless effort of rescues such as Amazing Strays, dogs can find a suitable home where they will cared for the way dogs should be. The love of dogs is more than just our own. Donations help keep organizations functional to provide a vital mission to the animal community.
A dog is always there for you, and no matter what kind of day you have had, when you get home your dog will be there to greet you with their tail wagging and full of love. So enjoy your time tomorrow with your loved ones…. including your special four legged friends. ♥
Wanna chat Live about dogs?

Come join Canine Crazies and my pack of dog friendly friends on Facebook at Canine Crazies in the Den. Let's bond, connect, laugh and share the love of our four legged friends.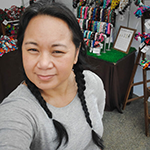 Dog Mom, traveler, foodie and canine crafter. Kimberly is dedicated to enriching the lives of all dogs. She is inspired by her Two Idiot Balls of Fluff, a hyperactive white husky, Koda and her senior beagle, Winnie. Kimberly is passionate about sharing with you all the things she learned raising her two fur babies.