Match Your Mutt: Polka Dot Style Guide
Dress up just doesn't have to be just for your dog. As a Dog Mom, it's fun to look cute! We often spend our days chasing our four legged friends and end our days covered in fluff. As a husky owner, I know this life all too well. It's everywhere. From my clothes to the furniture.  Although Dog Moms don't mind as it's the price of owning a dog – I wanted to bring to you style ideas that may inspire you.
As apart of my 2023 goals, I will be sharing with you on how you can can mix and match Dog Mom fashion with our canine collections. Match Your Mutt Style Guides are focused on specific patterns and colors to provide you a visual of how you too can accessorize with your pup.
The History of Polka Dots:
Did you know that the origin of polka dots dates back centuries and it has many different stories associated with it. While some believe polka dots first appeared in Europe, others stay it was first used in Asian but brought to Europe by traders. Others speculated it was the Inca Empire in Peru who was the originator. Polka dots have been seen in artwork from as early as the 1400s. They appeared on Japanese kimonos and Chinese pottery dating back to the Ming Dynasty. The pattern was also used in European fashion during the late 1700s. In the 1800s, Queen Victoria of England even wore a polka dot dress to an event. This cemented the pattern's status as fashionable, and it eventually became a favorite among many stylish individuals.
Modern Polka Dot Fashion
In the early 20th century, American fashion designer Josephine Hill was credited with popularizing the polka dot pattern. She was known for using the pattern in her designs, making polka dots commonplace in the fashion world. Since then, the pattern has been used in a variety of styles and colors, appearing in everything from clothes to accessories to home decor. Additionally, numerous songs have been written about the pattern, including "Itsy Bitsy Teeny Weeny Yellow Polka Dot Bikini" by Brian Hyland. The pattern has even made its way onto the silver screen, with films like Singin' in the Rain featuring polka dot-clad characters.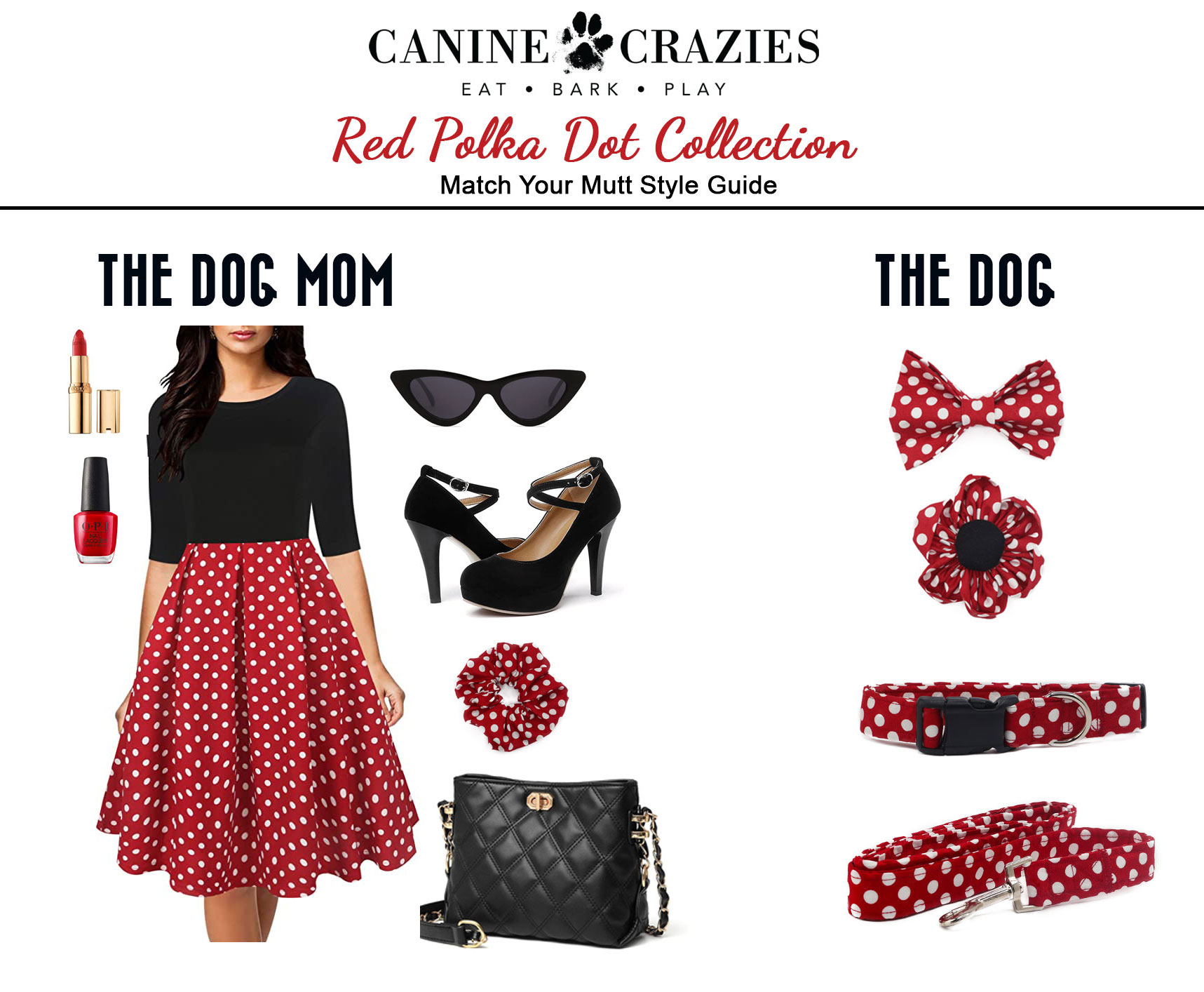 Red and White Polka Dot Dog Collection
Inspired by a love of retro 1950s design and my love of red black, this outfit would be perfect a dog mom get together. Also, it looks like something Mini Mouse would wear! Add some ears and you have a perfect Halloween costume.
Get the look
– Canine Crazies Red and White Polka Dot Collar
– Canine Crazies Red and White Polka Dot Collar Accessories
– Canine Crazies Read and White Polka Dot Leash
– Canine Crazies Red and White Polka Dot Dog Mom Scrunchie
–  Women's Vintage Half Sleeve Casual Pockets Party Swing Dress  (Amazon.com)
– Black Strappy Heels for Women Closed Toe High Heels (Amazon.com)
– Retro Vintage Narrow Cat Eye Sunglasses (Amazon.com)
– Small Crossbody Bags for Women Purses Fashion Leather (Amazon.com)
– L'Oreal Paris Colour Riche Lipcolour, British Red (Amazon.com)
– OPI Nail Lacquer, Big Apple Red, Red Nail Polish (Amazon.com)
This post contains external links to recommended products. Please visit to learn more about our external link policy.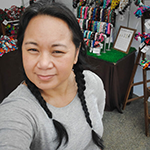 Dog Mom, traveler, foodie and canine crafter. Kimberly is dedicated to enriching the lives of all dogs. She is inspired by her Two Idiot Balls of Fluff, a hyperactive white husky, Koda and her senior beagle, Winnie. Kimberly is passionate about sharing with you all the things she learned raising her two fur babies.