Newbie Tips for Running with Your Dog
Running with your dog: Get inspired!
I must admit.  Over the past few years COVID hasn't been too kind to me. When your life is stuck indoors – working a day job, crafting at night and the only exercise you get is walking to the kitchen, you pack on the pounds. We made the best of it. Being at home all the time with my puppers was one of the reasons why I started Canine Crazies! My husky wasn't getting the exercise. My beagle girl was bored. Born out of inspiration to keep my girls entertained I started crafting for dogs.
Now that life is a bit more flexible, I need a change. A few months ago, I decided to do a "thing". In my Google searching for dog inspired activities, I came across a virtual run….. the Dog Mom 5K-10K, sponsored by I Run for Movement and Best Friend Animal Society, I decided… what the heck! Canine Crazies can support the love of animals while getting outside in the fresh air again with my girls.
Bear in mind… I am NOT a runner. I have always swam. I am slow… my knees hurt, and I give up after 200 feet. With this said – when I'm running with a dog, I forget all of it. I'm a newbie, but they LOVE it. Although my husky trots looking at me like "come on Mom!!" and my beagle's noses makes her act like a kite capturing all the different smells, it's been good for myself and my girls. So as apart of this adventure. I wanted to share with you a few newbie tips running with your dog I've learned so far.
Use a harness instead of collar
Although I sew custom made designer dog collars, a harness is a safer way to run with your dog, especially if you have an excitable, strong breed like my Koda. Unlike a collar, a harness evenly distributes pressure across your dog's chest rather than its neck—which can help prevent tracheal damage in some breeds when your running with your dog.
When investigating the best possible harness for my husky girl, I wanted something durable that could handle the strength of her pull. After hours of searching, I decided what better equipment to invest in than harnesses made just for mushing!
Although there are many on the markets, my favorite are Alpine Outfitters Urban Trail Adjustable Harnesses. Not only can they be made to custom, I've come to love the 4 point D Ring attachments. With Polar fleece padding it's been comfortable for her without chafing. It's also nice with the 3M Reflective bands for nighttime visibility. Perfect for hiking, biking (bikejoring) or running with your dog (canicross). Having a good quality harness is essential for greater control and maximum comfort when running with your dog.
Dog Mushing Commands and Training
Ever since I adopted Koda, I have been wanting to train her in dog powered sports. From dryland mushing like scootering to even going in the snow, my love of mushing runs deep. Now that we have been going out more often, I decided to step up her mushing command training once more. Basic commands include:
Gee! — right turn.
Haw! —  left turn.
Come gee! Come haw! slide to left or right
Hike! – let's start running
Whoa! – slow down
On Bye! – ignore that lizard, dog or smell.
Mushing commands help me have full control so that it is safe when your running with your dog. She won't hurt herself or worse, someone else. These have been used since day I've had her on the leash. It is only a matter of time we purchase a scooter to really hit the trails!
Start slow – avoid injuries!
With the help of my marathon running seamstress friend at Everything But Glitter, she has coached me on the baby steps I've needed to take. Proper coaching and training is critical when running with your dog. Have I hurt myself? Sometimes. Mostly my feet are burning and major shin splints. Although I was great the first few weeks, I know I'm not training in the pace I should.
With her advice – she told me to build my mileage slowly. A good rule of thumb is to increase your distance by no more than 10% each week. Doing so ensures that I won't get injured by doing too much too soon. I know this will take time. Beagle girl isn't also in the best shape. So we just have to keep going and be patient. Eventually we will find our rhythm – I can't feel bad if I can't run – I just can't rush it!
Taming the Squirrels: Making running a priority with your dog
Time is always a challenge for me. I see squirrels. Most days I'm up at 6am. Sometimes as early as 430am. When I work a day job at home, my head is buried in the computer throughout most of the day. At the end of it – the last thing I want to do is run. It is a constant struggle especially when it's crunch time for a market. It also doesn't help when you can't sleep and operating on 3-4 hours daily. Burn out is a real thing and it all catches up with you.  So it's a constant balance of taking care of myself so I have the energy to actually run with my dog.
What has helped is time blocking. Schedule it. Mark it on your calendar and set alarms. Better yet, have a friend remind you. It's easy to procrastinate and say "I'll do it tomorrow". Although when I do finally convince myself to NOT make excuses, I do enjoy it very much. Am I perfect at it now? Not even close. I saw a squirrel for the past few weeks and need to get back on track.  I have to remember – as a virtual run I can do this Dog Mom 5K at my own pace. I just have to pick myself back up when I get distracted and keep trying.  Like anything in life, the more I make running with my dog a priority, the easier this will become.
Always bring extra water, waste bags, and treats
Whenever you  take along a supply of water and doggie treats—and extra bags in case your pup does his business during or after your run. It's always a good idea to have at least one more treat than you think you'll need. What is critical for every runner is a waist leash! Something to hold things you need not just for you but most importantly your dog.
Make sure you have a safe area to run
Something that has always deterred me from running with my dog has been hitting the pavement on streets or sidewalks. From the uneven ground to cars and traffic,  it always worried me if we were safe. I have explored with different trails in the area. Rancho Penasquitos Canyon has been the best location for us to go have a run. It's flat, open and no cars for us to maneuver. Not to mention we get to take a break at times to explore the wonders of nature.  Although I would like to try other locations, knowing that I can focus on nothing more than putting one foot in front of the other and the happiness it brings makes it less stressful during our run.
Wanna chat Live about dogs?

Come join Canine Crazies and my pack of dog friendly friends on Facebook at Canine Crazies in the Den. Let's bond, connect, laugh and share the love of our four legged friends.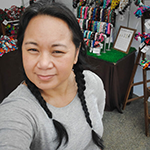 Dog Mom, traveler, foodie and canine crafter. Kimberly is dedicated to enriching the lives of all dogs. She is inspired by her Two Idiot Balls of Fluff, a hyperactive white husky, Koda and her senior beagle, Winnie. Kimberly is passionate about sharing with you all the things she learned raising her two fur babies.