For the love of travel: one big world, one little dog
For 46 years, I have traveled the globe with my family.  For the love of travel, I take a little stuffed dog with me everywhere I go named Bruno the Dog Prop. 
History of my love of travel
From the very beginning, my life has been spent in an airplane. Adopted from Thailand in 1976, my very first flight was the grueling trip across the globe for 18 hours to come home. It was the first of many miles spent in the air.
Aviation is deep rooted in my family's history. In the 40s and 50s, my Grandfather was a Pan Am pilot. Following in his Father's footsteps, my Father was certified at Boeing field in Seattle at age 16. He spent his entire career in the field he loved.. airplanes! Retired from Delta as a Boeing 777 airline Captain flying trans-Atlantic, he wanted to be just like his father who flew trans-Pacific.  Yet it doesn't stop there: My mother and aunt were flight attendants in the 60s.  My sister works for Southwest airlines.  Myself – I learned how to fly when I was 17. Aviation was simply just what we do. 
Being apart of an aviation family meant my parents wanted to show us the world. Our family vacations included trips around the country as well as England, Scotland, Germany, Russia, France, Switzerland, Italy, Korea, Hong Kong… and back to my birth place, Thailand. My father owned historical airplanes which stands now in a museum in Texas. From as young as I can remember, a Boeing Stearman biplane was our playground. As early as 10 years old, my Father was handing over the control to me to learn in these historic beauties when we flew his planes. I developed a love of travel through all of my family's experienced. I had a privileged life that I did not come to understand until I was an adult. 
Yet  for me, flying an airplane was like driving a car. It wasn't magical… it was how we got around. It wasn't new or I challenging to me. I had a different kind of love. My passion was understanding the world from a scientific point of view. At age 3, I would love to take apart watches or bend wire hangers because I found when it got hot it was fascinating. By age 8,  I wanted a microscope and chemistry set.  Later as a teen, due to my deep love our family pets,  I had fantasies about being a behaviorist or dog trainer.  I joined a wolf protection club to understand the instinctual behaviors of all canines. Dogs always made me curious – there is so much in their minds that we often misunderstand.  For 20+ years, that desire and passion  has never changed.  In fact it's still retirement goals! 
However, my family wanted me to be the very first woman pilot. I understand now… but at the time, I fought it.  Being the stubbornly independent woman I am, I chose a different path. Joined the Navy because I wanted NOTHING to do with airplanes. (famous last words)  After my military experience, I discovered the beauty of data collection. I became very proficient in Microsoft Excel and Access as a corporate admin.
When I wanted a flexible schedule for my family, I took my admin experience and a curiosity of entrepreneurship. Boot strapping it, I built a virtual assistant consulting company. It lead to being a client manager with a with web marketing firm. Then – I went  solo by starting my own web dev company with a rock star team of programmers, graphic designers, client managers and content writers to build e-commerce and blogs for clients. It was only then when I chose my own destiny  I found my heart. Working with brilliant minds in  technology and the data science of SEO and web marketing.  
Fast Forward: When my family needed insurance, I decided on a whim to apply to  Federal Aviation Administration. I wanted government because of the stability. Never in a MILLION years would I have thought I would turn to aviation. Yet, it was the best decision I made. 
Today: I am honored to be serving in the capacity as a Program Manager for a National safety software. I bounce around the country either visiting FAA facilities or Headquarters in Washington DC.  Every day I am surrounded by technology and big data. Every day I am in love. The day I joined the FAA.. in my family's eyes… was the day I came home. Even if it's in aviation, I found where I could carry the family legacy but in the capacity that was right for me.  
Yet, I still was missing something. The thing I loved the most as a child. The love of dogs. As I always have a side hustle, during COVID I decided to go back to my roots. Find something with dogs, I could do in-house and combine that with my experience in e-commerce. I knew this was the right path because I would give it my heart just as much as I do my day job.  Since I had more down time without work travel, Canine Crazies was born. 
When  two worlds collide

Problem:  Ok.. COVID restrictions have lessoned. I'm back traveling for my day job. I have a dilemma. HOW am I going to continue to grow and share Canine Crazies with the world while on the road?

Solution: Bruno the Dog Prop! 

Bruno is a silly little stuffed dog mannequin I purchased on Amazon to give my craft booth some dog flair. I decided if I am traveling again, why not incorporate Bruno and bring him to life. I can't take my real dogs… why not take my fake one?  He can come with me on work trips.  We can go on family vacations. We can share his adventures on Instagram. He can wear my collar designs around the country. We can meet new friends (aka: potential customers)  Two world colliding…. it's perfect! Although Bruno is just a stuffed animal. I have learned a few things while taking him on adventures. These are  lessons  learned you can apply even to your real dogs! 


Lessons Learned Traveling with your dog: even with a stuffed animal!
You will make new friends
Dogs are great conversation starters. From talking about the breed or complimenting on how cute they are. When two dog loving people get together, even if they are strangers, there is an instant bond. Even carrying around Bruno in the airport, it's started many conversations. From his  collar, bow tie or even making dog ropes while we wait at the airport with him by my side. People laughed at me for being a grown lady with a stuffed travel friend. Yet Bruno has inspired connection and the love of travel with strangers about having fun while traveling, my business, and it's ok to still be a kid.   
The most memorable time with Bruno. When I was taking a picture of Bruno, a photographer stopped me. He asked "Your dog is so well behaved… how do you do it?" My response: "umm cuz he's stuffed!" hahaha! 
You will build a closer bond
Spending quality time with your dog I believe is far more important than quantity. When I travel with my girls, the Idiot balls of Fluff, not only are they getting new experiences, I know they are also looking back at me for protection and guidance. When I hike with Koda, we stop and just enjoy the moment. She enjoys the one on one attention away from her sister.  We slow down and spend time together. 

Although I can't bond with a stuffed animal (that would be weird), sharing pictures on social of Bruno's adventures brings me closer to my community. I still stay connected to my tribe. We can inspire people to enjoy the love of travel and see the world. Life is an adventure and we should all take time for it. 
You will discover different places and see new things
Dogs will force you to go to off beaten paths. Since not all places are dog friendly, you get creative and find places where dogs can explore. Non-tourist sites, serene beaches and parks.  

When I travel with Bruno, I try to think of places that might be a bit  silly and fun to take a picture with a stuffed animal.  Since my home away form home is Washington DC we are on a mission to find every dog memorial in this beautiful city. We have gone to parks and just explored when we can. I always save 1 day now on my travel trips just to go do something different. When I am on travel, I am focused on work, but it's nice now that Bruno is with me, I have an excuse to go on a little adventure and embrace the love of travel. 

You will create memories
Everyone who knows me understands I love pictures. I take a snap any chance I get. from my kids to dogs. To me photography is capturing a moment that you will look back on and remember.  i want to capture every moment and remember the love of travel. When I'm out with my dogs, I want to capture their faces. The things they saw and the places we have been. May it be for a laugh or just to look back on when 70. It's no different with Bruno. he's helped me remember that the world is a beautiful place. 

So thank you Bruno for being the best travel friend a girl could have. The love of travel is what motivates me to bring you along.  Although you aren't a real dog… it doesn't matter. Our travel adventures are real to me. ♥

If you enjoy the love of travel, follow  our travel stories on Bruno The Dog Prop Instagram
Wanna chat Live about dogs?

Come join Canine Crazies and my pack of dog friendly friends on Facebook at Canine Crazies in the Den. Let's bond, connect, laugh and share the love of our four legged friends.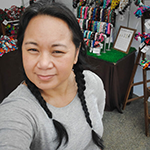 Dog Mom, traveler, foodie and canine crafter. Kimberly is dedicated to enriching the lives of all dogs. She is inspired by her Two Idiot Balls of Fluff, a hyperactive white husky, Koda and her senior beagle, Winnie. Kimberly is passionate about sharing with you all the things she learned raising her two fur babies.