Celebrating St Patrick's Day with Your Lucky Pup
Every year we take a moment to celebrate St Patrick's Day. Although my heritage is from Thailand, my son's Father's side is Irish. His great grandfather, Jacko Conlan (amazon.com) was 2nd generation Irish American.  Outfielder for the Chicago White Sox, and in the Baseball Hall of Fame, on St Patrick's day, we celebrate his family's Irish wit. Understanding and honoring your family's legacy was always important to me while raising my children. I believe it's good to remember who came before you.
However, St Patrick's day isn't just for humans. We can't forget our four legged friends! To celebrate our bond with them, it's fun to get into the Irish spirit and make sure they have the best day of their lives! Whether it's planning a fun activity, making a special treat, or getting them decked out in festive green attire, there are plenty of ways to make your St Patrick's day dog the luckiest pup around! 
History of St. Patrick's Day
The holiday of St. Patrick's Day is a celebration of Irish culture, and it is believed to have originated in the 17th century. The holiday celebrates the life of Saint Patrick, the patron saint of Ireland, who is credited with bringing Christianity to the country. It is thought that Patrick used the three leaves of a shamrock to explain the concept of the Holy Trinity to Irish pagans. The day was initially celebrated only within Ireland and was marked by religious services and feasts. In the late 19th century, Irish immigrants in the United States helped to popularize the celebration, which eventually spread to other countries around the world.
History of Corned Beef and Cabbage
Because I love carrying on family tradition, every year I try to make one of my son's favorite dish. Corned Beef and Cabbage.  What is interesting is Corned beef and cabbage actually did NOT originate from Ireland. This dish is said to have been created during Irish immigration to America. Since pork is commonly found in Ireland, it was an inexpensive substitute for bacon. According to the Smithsonian "In Gaelic Ireland, cows were a symbol of wealth and a sacred animal. Because of their sacred association, they were only killed for their meat if the cows were too old to work or produce milk. So, beef was not even a part of the diet for the majority of the population." Cabbage however has been found as early as the 17th century. During the potato Famine, it became an important staple.  Despite the historical facts, corned beef and cabbage is beloved favorite on our dinner table.
Dressing up the Dog for St Patrick's Day
Wearing my St Patrick's Day dog collar and accessories collection, we decided to take a photo op!  I also found this adorable green hat that she HAD to wear. Although Koda wasn't terribly impressed, the pictures made me laugh so hard. May it be a green bandana, a green boa or a St Patrick's day dog collar accessory, dressing up your dog for the holidays with photos of their silly expressions are memories that will last for a lifetime.
To share with all of my pack members on Canine Crazies in the Den, Koda even went on Facebook Live. She had to show everyone even her hat can blink!
St Patrick's Day Treats for dogs
While the family enjoys corned beef and cabbage, it is not suitable for dogs. Although the beef isn't toxic, the process of salting creates a very high sodium level for their digestive systems. this can lead to heart conditions and sometimes salt poisonings. Like all of my dog recipes, I limit all spices and make them as bland as possible. However, Koda was able to enjoy some special doggie safe treats for St Patricks' Day.
With the purchase of these shamrock cookie cutters, we made green treats! Packed with all natural ingredients I had the confidence knowing she could enjoy St Patrick's day with us and feel like the luckiest dog of the day!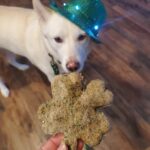 Print Recipe
St Patrick's Day Shamrock Dog Treats
Spoil your lucky dog with these shamrock dog treats! Spinach is a rich source of dietary fiber, and the vitamins and minerals in fresh spinach can help boost your pet's immense system and energy levels.
To make your treats greener, add some frozen pureed peas! Green peas are packed full of vitamins like A, K and C , minerals such as iron, manganese and phosphorus. They also benefit from being rich in protein and high in fiber. On top of this, peas also contain lutein which is an antioxidant that may be good for a dog's skin, heart and eye health.
Both spinach and peas should be used in small quantities to avoid any digestive issues. Also avoid any canned vegetables as they are high in sodium. If your dog is lactose intolerant, exclude the cheese.
Equipment
1 Food processor

Bowl

Shamrock Cookie Cutters

Measuring Cup

Parchment Paper

Cookie Sheet
Ingredients
1

cup

cooked spinach puree

no canned

1

handful

mozzarella cheese

optional

3

cups

flour

1

each

egg

2

tbsp

milk

1/2

cup

cooked pea puree

optional - no canned
Instructions
Pre-Heat oven 350 degrees

To create spinach and pea puree, put in a food processor with a small amount of water. Blend until smooth

Mix all ingredients in a bowl

Using a floured surface, roll about 1/4 inch. Cut with cookie cutters

LIne baking sheet with parchment paper. Cook for 20 min
Wanna chat on Facebook Live?

Come join Canine Crazies and our dog loving community at Canine Crazies in the Den. Recipes like this will be made with more stupid dog fun! Let's bond, connect, share and laugh about the love of our dogs.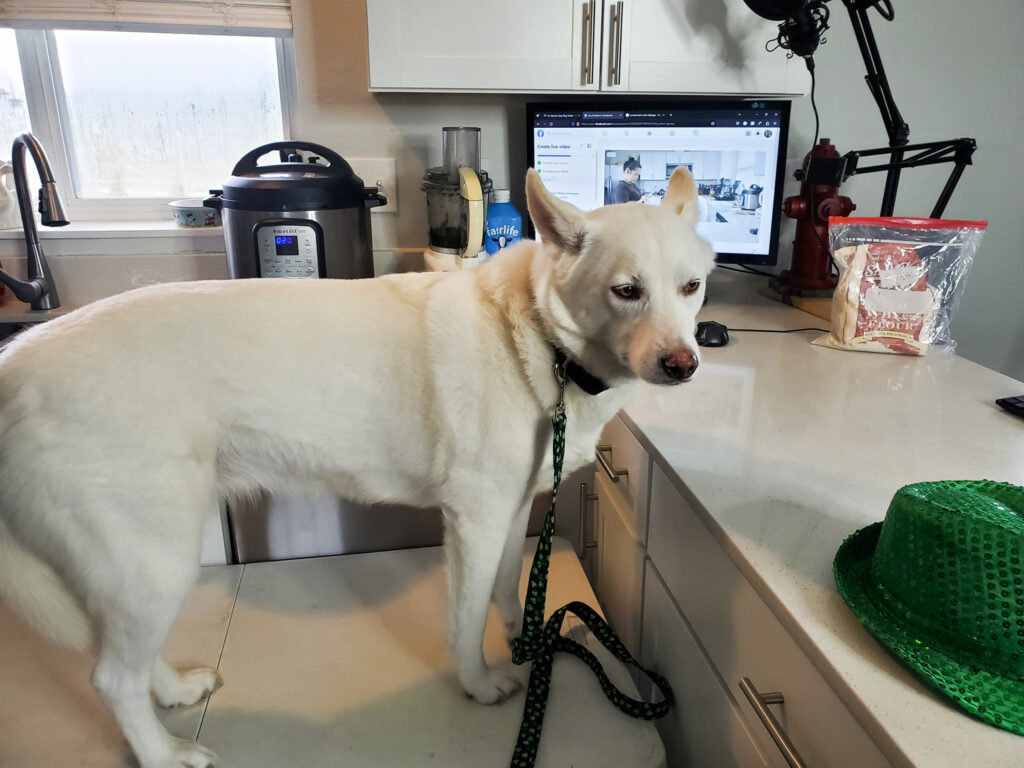 This post contains external links to recommended products. Please visit to learn more about our external link policy.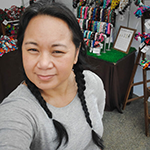 Dog Mom, traveler, foodie and canine crafter. Kimberly is dedicated to enriching the lives of all dogs. She is inspired by her Two Idiot Balls of Fluff, a hyperactive white husky, Koda and her senior beagle, Winnie. Kimberly is passionate about sharing with you all the things she learned raising her two fur babies.